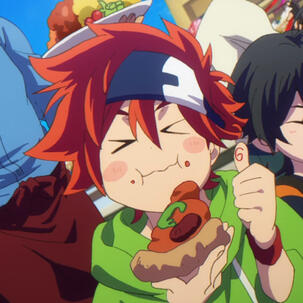 Wanna go back to my primary carrd?
Click below!

---
All of my Interests (Bold = Strong Interest)
SK8 the Infinity, Jet Set Radio, Biohazard, Bejeweled, Porkchop n' Flatscreen!/Chubby Mermaid, Object Shows, Riverdale, Megaten, Evangelion, The World Ends With You, Ace Attorney, Bust a Groove, ENA, Final Fantasy, Kingdom Hearts, Any Windows XP era freeware game really, Silent Hill, All Saints Street, Yokai Watch, Devil May Cry, Panty and Stocking with Garterbelt, PaRappa the Rapper
Comforts (Bold = Kin, Underline = Strong Comfort)
Fret (TWEWY), Reki Kyan (SK8), Yoyo (JSR/JSRF), Rindo (TWEWY), Michael Dalton (PCFS), Ethan Winters (BIO7/BIO8), Pegoryu (P5/P5R), Promptis (FFXV), Renga (SK8), Takuto Maruki (P5R), Ninja Girl Mai (PCFS), Ayane Shiun (PCFS)
---
---
Click below to continue!